-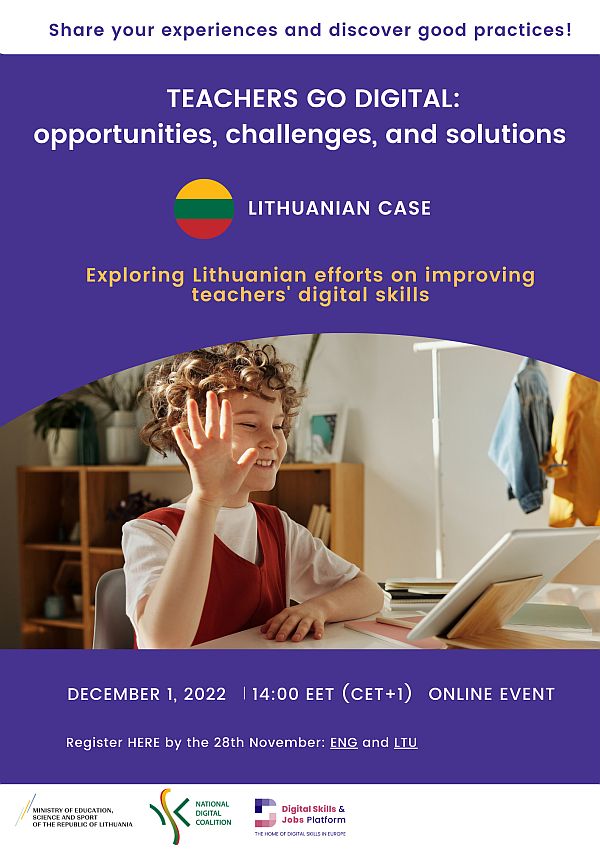 For those who were not able to participate please visit the recording: https://www.youtube.com/watch?v=0qgzRqbiYoA
Dear colleagues,
We would like to cordially invite you to participate in our online event "Teachers go digital - opportunities, challenges and solutions. Lithuanian case"  on 1st December 2022, 14:00 EET (CET +1). The event will be held in English.  
This event is organised by the Lithuanian National Digital Coalition together with the Ministry of Education, Science and Sports of Lithuania and is a part of the Digital Skills and Jobs platform joint campaign "Discover your dream job in digital".
The event will focus on highlighting the importance of digital skills for teaching, as well as sharing Lithuanian efforts on digital upskilling of educators. The aim of the event is to share topical insights and initiatives, as well as to present Lithuanian government's strategies aimed at reducing the digital skills gap in the education sector. 
Presenters will explore the opportunities, challenges, and solutions related to teachers' digital skills through the following topics:
The current situation of teachers' digital skills in Lithuania

Research and guidance on  digital teaching

EdTech project: activities, examples, teachers' impressions

Digital education guidelines for schools
AGENDA (last update 28-11-2022)
Part 1: OPPORTUNITIES & CHALLENGES
14:00 Introduction (moderator Loreta Križinauskienė, National Digital Coalition coordinator)
14:05 Welcome and country situation overview (Lithuania).
Justina KUGYTĖ, adviser to the Minister of Education, Science and Sport of the Republic of Lithuania, digital project manager
14:15 European Commission message
Vitis FAURE TILGAARD, policy officer, European Commission, DG CONNECT Unit G2 - Interactive Technologies, Digital for Culture and Education
14:30 Lithuanian teachers' digital competencies and Digital Transformation of Education (EdTech) project. 
Indrė ŠUOLIENĖ, Head of EdTech Center, National Agency for Education
14:45 Innovative solutions and their testing in classrooms: EdTech tools.
Justas PAULIKAS, educational technology specialist, National Agency for Education
15:00 Rating of innovative solutions by teachers and pupils, what key benefits of the tested tools they have found (video report from Lithuanian schools)
Part 2: SOLUTIONS
15:10 Digital education guidelines for schools.
Julija SKERNIŠKYTĖ, Create Lithuania project manager at the Ministry of Education, Science and Sport of the Republic of Lithuania
15:25 Kaunas University of Technology ( KTU) support to the development of digital competences of Lithuanian teachers.
Gytis Cibulskis, Head of KTU E-Learning Technology Centre
15:40 Conclusions and discussions
16:00 End of the event
We invite you to join the event  and  learn more about the opportunities, challenges, and solutions to improving digital skills for teaching in Lithuania. Share your experiences and find inspiration from good practices!
We kindly request to register for the event  by 28th of November here in English or here in Lithuanian, so that we can provide you with the link of the event.
We will be happy to respond to your questions if you may have any: let's get in touch via events@skaitmeninekoalicija.lt.

Įvykio detalės
Industry - field of education and training
Information and communication technologies not elsewhere classified
Inter-disciplinary programmes and qualifications involving Information and Communication Technologies (ICTs)
Target audience
Digital skills in education.
Digital skills for all
Digital skill level
Basic
Intermediate
Advanced
Digital expert
Type of initiative
National initiative
Digital technology / specialisation