-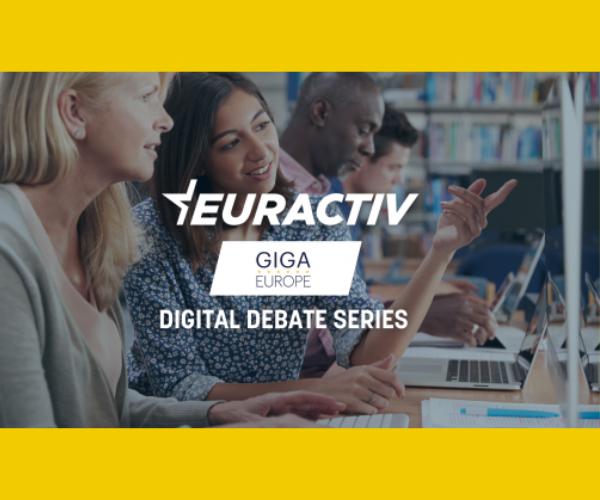 2023 m. kovo 27 d. EURACTIV- GIGAEurope organizuoja skaitmeninių diskusijų ciklo internetinę sesiją "Įgūdžių metai. Ar mobilizuota Europa mokosi, ką daryti, kad konkuruotų pasauliniu mastu? ".  
Renginyje bus aptariama ES skaitmeninė darbotvarkė iki 2030 m. ir 2023-ieji – Įgūdžių metai, nagrinėjant klausimus, susijusius su prieiga prie skaitmeninio švietimo, junglumu ir ES darbo jėgos pasirengimu orientuotis ateityje. Tarp diskusijų dalyvių yra Europos Komisijos Užimtumo, socialinių reikalų ir įtraukties GD generalinio direktoriaus pavaduotojas Stefan Olsson, Europos Komisijos Švietimo ir kultūros GD Skaitmeninio švietimo skyriaus vadovas Georgi Dimitrov, Europos Parlamento EMPL komiteto narė Sylvie Brunet, Švedijos nuolatinės atstovybės ES patarėjas švietimo klausimais Anders Lindholm, Mokymosi visą gyvenimą platformos – Europos pilietinės visuomenės švietimo srityje (LLLP) pirmininko pavaduotoja Raffaela Kihrer ir "VodafoneZiggo" Žmogiškųjų išteklių ir vidaus reikalų vykdomasis direktorius Thomas Mulder. Renginį ves Brian Maguire iš EURACTIV.
Daugiau informacijos ir nuorodos, kad būtų galima užsiregistruoti renginio puslapyje.
Įvykio detalės
Industry - field of education and training
Inter-disciplinary programmes and qualifications involving Information and Communication Technologies (ICTs)
Target audience
Digital skills for the labour force.
Digital skills for ICT professionals and other digital experts.
Digital skills in education.
Digital skills for all
Digital skill level
Basic
Intermediate
Advanced
Digital expert
Type of initiative
Local initiative
Digital technology / specialisation